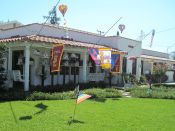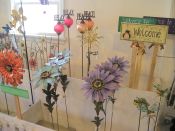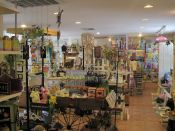 Garden Greeters, LLC started simply with a hobby of tole painting and personalized wooden yard signs. As friends and neighbors encouraged us to commercialize our hobby, we sold our first products at local craft shows, street fairs and market places. Three years later in September of 2002, by the grace of our Lord, we expanded our business by opening our first store in the city of Brea, California.
Our store carries most of all garden accessories and decorations from decorative flags, wind chimes/wind spinners, yard stakes, birdhouses, birdfeeders, birdbaths, garden figurines, wall signs/decor, stepping stones, etc. We add new items every month and when a new season comes.
We are so pleased now that our customers finally can browse some of our products and shop online here at our new website! We strongly believe in honesty, good valued and quality products, and good reliable service will give our valued customers a secure and pleasant shopping experience. If for some reasons, you have any questions or concerns, please call or email us at sales@gardengreetersllc.com. We will do our best to make it right!!
And finally, life is a journey. There is always tomorrow and a new day, so take it easy on yourself. Say I love you, give your biggest hugs and kisses to your family and love ones everyday! Thanks for enjoying our website.
Customer Testimonials
Fast shipping, good service and reliable, will definitely shop again! — Mindy
I've been buying my flags and other garden decor from this store since they opened and now I moved to Oregon but still buying my flags and garden decor through their website. Love the store and friendly service. — Brian Mc Comick
It's a pleasure to do business with. — Linda
Wow, so glad to find this website. I was looking for evergreen flag but This site is the cheapest compare to many other sites. Fast shipping too! I will buy again soon for my summer flag. — Steve
I ordered wooden Dog sign, it just looked terrific even better than I've expected. They finished my sign fast and shipped fast too. Love to buy from them! — Sara, Texas
Love the Flag selection and cheaper than other sites. Good service and fast shipping, will definitely do more business with them, Thank You! — Jen, PA